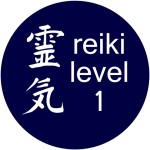 The first degree of Reiki (also known as Reiki Level 1 ) is ideal for anyone, especially those who are looking to mostly work on themselves and close friends and family only.
Reiki is the pure and natural healing energy that your body wants to maintain itself.  Treat yourself to this course and you will be able to give yourself this wonderful energy  whenever you want.
What's taught on the Reiki Level 1 course?
As well as the attunement ceremony to the First degree, this one day course includes an introduction to the Usui system of Reiki (Reiki Principles, Self Healing) and simple Reiki techniques to develop your connection to the Reiki energy. There are practical sessions for the meditation, self-healing and hands on healing techniques that you learn during the course.
You will also be taught about energy work, including a description of the energy body (including some information on chakras and auras), a discussion on working with others.
You will also receive a manual with supporting information on all that you learnt during the course.
You will also be presented with a certificate of attendance.
Tim's tries to provide a fun, relaxed and informal atmosphere for the course.  You are encouraged to enjoy yourself as you learn about the Reiki energy on this course.  There is an emphasis on experiencing the energy on this Reiki Level 1 course as you feel it for the first time.  Tim tries to share his enthusiasm for everything Reiki and all the feedback he has received seems to suggest that he does this well. See the Testimonials page for more information.
After the attunement you will need to complete a 21 day self healing process, where you will be expected to perform reiki on yourself each day.  This is discussed in greater detail on the course, but please be aware of this commitment for all levels.
Course duration: 1 day (9am - 6pm*)
Location: Clerkenwellbeing Studios, 178 Goswell Road, London, EC1V 7DT
Cost: £150
Discounts available? £25 early bird discount available if booked 4 weeks before the course date. Cut off dates detailed here.
Tim has been practicing Reiki since 2005 and is a member of the UK Reiki Federation
*End timings are approximate and depend on the number of people on the course.
What people said about the course:
I thought you were very conscientious, thorough and caring. Very approachable and made us feel very comfortable. Great experience and very glad I ca,e. You're a blessing! Thank you Tim xxx
Yosra
I have had the most interesting and intriguing weekend. I have learnt so much and the things you taught me are important and life affirming to me. So thank you very very much!
Bea
Thanks. I really enjoyed the course.
Hanna