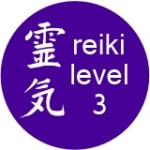 The Master level (also known as Reiki Level 3) is suitable for those who want to take their Reiki practice to a deeper level, often people working with clients in a professional capacity.  You need to have received the attunements for Level 1 and Level 2*
What is taught on the Reiki Level 3 course?
The Reiki Level 3 attunement is a one day course, where you are shown the final Reiki symbol, and introduced to further Reiki techniques, discussions on working with clients, the support of the UK Reiki Federation and setting up a practice.
The Teacher section is a 2 day course covering the attunement process for all three levels, practice, more practice, discussions on teaching approaches, access to Tim's training documentation and more practice.
I teach the Master attunement separately from the Teacher training element as between the two section there is a lot of information to absorb, with new symbols, practices and discussions concerning working with clients.  You do not have to complete the Teacher days in the same block as the Master course, as some people do not want to attune others.
Please note that you will need to complete a 21 day self healing process after the Master attunement, where you will be expected to perform Reiki on yourself each day.  More about this will be explained at the course, but please be aware of this commitment for this level and you are expected not to perform Reiki on other people or animals during this time (especially important for those already working on others in a professional capacity).
Course duration: To be confirmed
Location: Clerkenwellbeing Studios, 178 Goswell Road, London, EC1V 7DT
Cost: To be confirmed
Tim has been practicing Reiki for nine years and is a member of the UK Reiki Federation
*You need to have completed both a Reiki level 1 course and a Reiki Level 2 course before you will be accepted on this course.  If this was not with me, you will need to provide information on when and where you did the course and contact details for the Reiki Master who did it.