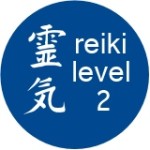 The Practitioner level course (also known as Reiki Level 2) is ideal for anyone who has completed the level 1 attunement* and wants to progress.  Often considered a minimum attunement level for anyone wanting to work on clients as a professional, but you do not have to want to practice on people to have this attunement.
What does the Reiki level 2 course cover?
This two day course includes further self development techniques, teaching of the first three Reiki symbols, Reiki mantras, distance healing, considerations for working with paying clients, details about UK Reiki Federation and what they offer, need for insurance.
You will also receive practical experience on working on others, and in the meditation and Reiki techniques that you are taught.
You will receive a manual providing further information about the symbols, mantras and techniques that you have been shown.
After this attunement you will  complete a 21 day self healing process, where you will be expected to perform Reiki on yourself each day. This will be discussed in greater depth on the course, but please be aware of this commitment for your attunement.  You are expected not to perform Reiki on other people or animals during this time.
*You need to have completed a Reiki level 1 course before you will be accepted on this course.  If this course was not with me, you will need to provide information on when and where you did the course and contact details for the Reiki Master who did it.
Course duration: 2 days (10am - 5pm each day*)
Location: Clerkenwellbeing Studios, 178 Goswell Road, London, EC1V 7DT
Cost: £250
Discounts available? £25 early bird discount available if booked 4 weeks before the course date. Cut off dates detailed here.
Tim has been practicing Reiki for nine years and is a member of the UK Reiki Federation
*End timings are approximate and depend on the number of people on the course.
What people said about the course:
[I liked] ...the chance to learn from you during a treatment so I can listen and explore in a guided way, I feel like I want to do more of that.
Ruth
A great balance between receiving information, practical/experiential and anecdotal. [I liked the]... varying ways to apply Reiki to everyday life, treatments etc.... Great to have you  there while treating, explaining what you were doing then me seeing what I could feel.
Anna