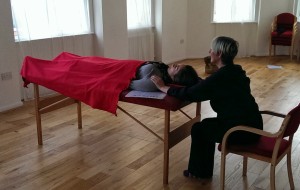 Reiki treatments are a great way to experience this pure energy for yoursel.  Everyone could benefit from a boost of Reiki energy.  Even if you're attuned to Reiki a treatment helps restore the bodies natural balance, there is something delicious about receiving a treatment from another practitioner that self healing can't quite match.
Want a Reiki treatment?
I offer treatments in two locations in the London area:
Clerkenwell, EC1
I am based at the Islington & Clerkenwell Complementary and Chiropractic Clinics I work at their Clerkenwell Clinic, 178 Goswell Road, Clerkenwell, EC1V 7DT,
Call 020 7490 4042 to make a booking
I am at these clinics Mondays (2pm - 8pm), Wednesdays (8am - 1.30pm), Thursdays (2.30pm - 8pm).
Stanmore
I am based at the Stanmore Chiropractic Clinic at 74 Uxbridge Road, Harrow, Middlesex, HA3 6DL
I am here Thursdays (9am - 1pm) and Fridays (10am - 7pm)
Call 020 8954 8311 to book an appointment.
Making an appointment
To book an appointment please call the clinic you wish to make an appointment at as they manage my appointment diary.
Prices vary between the sites.  The two clinics are run as separate entities so you are not able to transfer courses between the two.  The prices are for an hours session, and this includes history taking, preparation, treatment and getting off the couch.
I have been practicing Reiki since 2005 and I am a member of the UK Reiki Federation
In addition to Reiki, I offer treatments in Sports & Remedial Massage, Integrated Myofascial Release and the Honey Healing Method.  More details about what these therapies are can be found on my Relax, Release, Renew website.