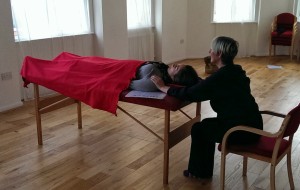 A Reiki share (also known as a Reiki circle) is where Reiki practitioners of all levels meet together to meditate, share experiences, and practice on each other.
I am about to run my first Reiki Share, at the beginning of December 2014.  This first one will be for my Reiki students only.  I will be extending the invitation to others in 2015.
They are held on a Sunday  afternoon, either once a quarter or every other month. They will be held in the clinic at 178 Goswell Road, London, EC1V 7DT (where I provide treatments).
If you are not one of my students, but would like to be included in the mail out of dates then please get in touch and sign up for my newsletter.
I will be advertising them via my facebook, twitter or Google+ accounts, as well as on this page.  So please follow my accounts there (see above or on the Get in touch page) to stay up to date on what is happening.