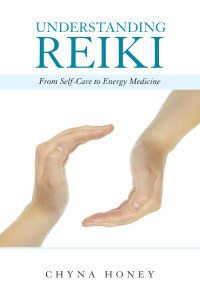 Understanding Reiki is the first book by Chyna Honey, Reiki Master, Energy worker extra-ordinaire and friend.  It is an amazing, simple and insightful read.  It has a rare viewpoint that set it apart from most books about Reiki.  Rather than detailing the self development system created by Mikao Usui, Chyna chooses to focus the book on the wonderful, pure, extraordinary natural healing energy that is Reiki.
This disregard of the system of Reiki is likely to ruffle a few feathers in the Reiki world. However there is nothing to worry Reiki practitioners about: it is reminding us about the energy that is the centre of the healing we offer.  The energy is all around us, and has been a natural part of our development on this planet; Mikao Usui "merely" gave the energy the name Reiki and formulated a way for everyone to access it.  The system that he created was a product of his background and it was meant to be used as a way to channel this healing energy, but over the years this system has become a greater focus than the Reiki energy itself.  This is what Chyna is seeking to change, bringing the focus back to the Reiki energy and clearing away elements that are getting in the way of more people working with this energy.
In her book, Chyna brings a clarity and insight to the Reiki energy. Why our bodies need it, what it can and can not heal, and why we should give it to our bodies on a daily basis and get regular check ups with a professional.
The book is simple in its approach but there are many layers to the information it is sharing.  The first time that I read it was shortly before I taught my Reiki 2 course and I will admit that I ploughed through it to satisfy my mind that I wasn't teaching the wrong thing.  Even in this fast paced read I could feel that my body and soul were picking up on deeper layers of information.  I am now re-reading the book, at a more leisurely pace with a lot of "Cup of tea moments" to allow me to process what I've just read.
What has "Understanding Reiki" taught me?
This book reminded me that I have let my mind's quest to know all about the history of Reiki and the techniques that Mikao Usui taught has overshadowed my acceptance of and use of the Reiki energy.  It has shown me that what is most important is my interaction with the energy, and the best place to start is through self healing, daily.
As a Reiki Teacher, what "Understanding Reiki" has reminded me is that the most important thing to share with my students is using the Reiki energy on themselves is everything.  They need to the experience the energy in their body.  Then they can see how it helps the body calm and heal. If that is all they learn on the weekend, that will be the most important lesson learnt.
Also, I need to emphasise that Reiki is not about spiritual development, but it can support them in this path if that is what they choose to do. Using the Reiki vibration should be a foundation stone from which other knowledge can develop and should be continued to be worked with no matter the direction their life takes. Other things like meditation are useful to practice, but are not vital to using the Reiki energy.
It is also not important to know the life story of the people on our Reiki Lineage, other than that they were there. In fact that is feed the mind's need for verification and really has nothing to do with the Reiki energy.
I will be shifting the emphasis of my courses to be more experiential rather than historical, but I am unlikely to completely disregard some history (but that is partly me).  Similarly there are some techniques that are useful to practice to assist the Reiki practice of the student, but these are not vital.
More information about "Understanding Reiki"
The official website for the book is understandingreiki.com, and it has a lot more information about the book, as well as a blog covering things like why meditation and Reiki are different.
Buying a copy
I will be selling copies of the book for £10 (plus p&p).  Please send me an email if you are interested in buying a copy.
You can also buy an eBook from Lulu.com if that is your preference.